Our Solutions For Your Practice
Your tax return and accounting software is the backbone of your practice, but it doesn't cater for all of your needs. That's where we fit in.
Launching in 2008, Accountants Desktop had its beginnings in an accounting practice and continues to have strong roots in that environment. We know what practices need.
Our web-based collection of solutions to your needs was specifically created for tax and accounting professionals in public practice.
Check out our samples, watch the videos on our YouTube channel and see what our users say about us below.
Access all of our content with an annual subscription (can be paid monthly — min 12 months) or browse through our products for sale below and purchase just what you need.
30 Day Money Back Guarantee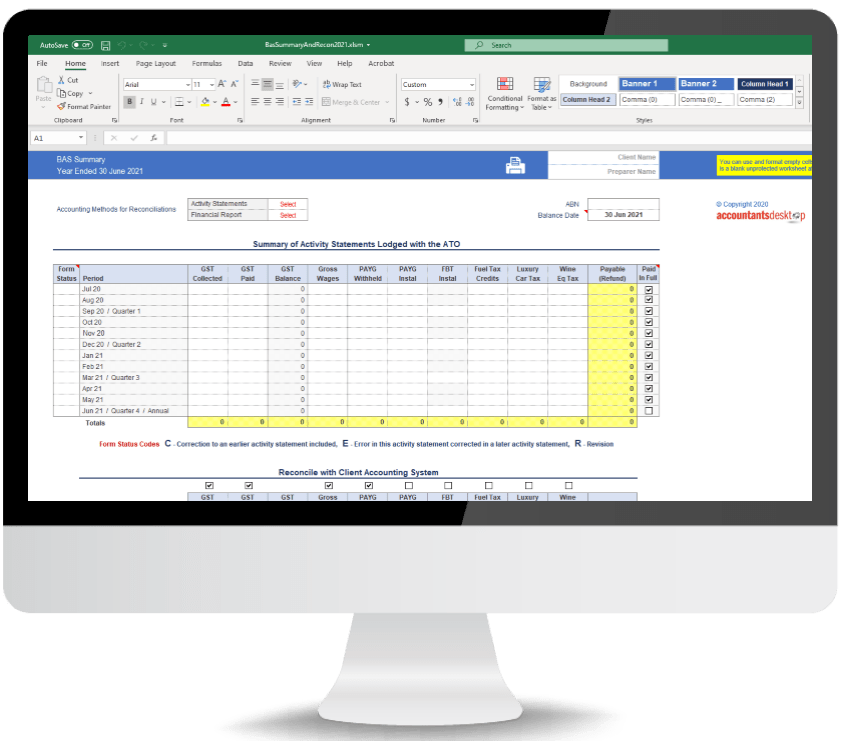 Accountants Desktop Features
Excel Templates
Get access to hundreds of Excel templates for tax, accounting and practice management calculations as well as our own unique JobPaper collection of workbooks which take the work out of workpapers.
Forms
Download dozens of checklists for practice workflow, job procedures and client communication. Customise these Microsoft Word forms to suit the individual needs of your practice.
Library
Browse through our comprehensive list of links to the ATO and other websites to quickly find technical reference material.
Rates
Find any tax rate or threshold you need in our comprehensive list of current and prior years rates.
ATO News
Keep up to date with, or search our list for, ATO emails circulated regularly to tax practitioners. We focus on topics of interest to small and medium practices
Template Letters
Make use of our extensive range of templates for your outgoing emails and letters. Letters are in Microsoft Word format and can be downloaded and customised as necessary.
Why Use Accountants Desktop?
Reduce time spent on client work
Maintain or improve quality control
Consistency across your practice
Predictable and reliable outcomes
Guide new or inexperienced staff
Free up partner & manager time
"Flying start" for new practitioners
Broad range of resources to use
Timely updates to existing content
New content regularly added
Watch Our Videos
The first video takes you on a tour of our site and shows you what we offer.
The remaining three videos preview a day in the life of 3 Accountants Desktop users. Roger, partner, Jane, senior accountant and Kim, personal assistant show how they use Accountants Desktop in their work on a typical day.
To see all of our videos
To access sample content
What people say about Accountants Desktop
We need to thank you for your fantastic product, we use a little something from your website each and every day!
Chantal Spangenberg
Abacus Taxation Services, Qld
I finally have my own login, after all these years.  So excited!  I love your website! The available tools and resources make working in an accounting practice effortless!
Rosanna Felicetti
FinCare Accounting
BTW I really really like these working papers! If I can do this without the training – imagine with training – it's a brilliant spreadsheet
Alicia Adams, Sunshine Coast
(on our new JobPapers)
I have been using Accountants Desktop since its inception and have found this website to be a most valuable tool in my armory for the many and varied aspects involved in a public practice. From spreadsheets to interview forms, quick links to the "recent updates", rates, calculations and the library. This website is constantly updated with latest ATO information and I feel more than comfortable in recommending such a superior font of knowledge for any level of person in the accounting arena.
Genelle Nash, Sydney
Thanks for that – I love this worksheet – along with so many of the others that you have.
Coral Page, Principal
Knox Taxation and Business Advisory
I have been using Accountants Desktop for over 6 years and it has been invaluable to my business. The information, links and spreadsheets have helped my staff and myself tenfold over the years; it has simplified our processes and helped us produce accurate work every time using their forms/spreadsheets. I would thoroughly recommend Accountants Desktop to any accountant or bookkeeping business and I can't thank Dennis @ Accountants Desktop enough for the support and his wonderful website.
Samantha Sharp
Guardian Bookkeeping & Training
Thanks Dennis. Keep up the good work – love the website.
Andrew McManus
HLV Partners
I have been using Accountants Desktop for the last few years. As a sole practitioner I am very time poor, and I'm always looking for ways to make my practice a more efficient one. Accountants Desktop has been able to assist me with working papers (via excel), staff checklists and a quick view to look up important rates. Why re-create the wheel and make worksheets from scratch, download one of the many Accountants desktop excel working papers. The subscription is worth every cent.
Nathan Rigney
NGR Accounting
I have recently purchased a subscription to your website and I love it. I think you provide an enormous value for the price tag – thankyou. I have previously used the (name removed) workpapers and am slowly changing over to yours. There are a few things your workpapers do much better (your Div7a workpaper is awesome). There are also a few features in the (name removed) workpapers which I find myself missing in some of your versions. Do you have an avenue for feature requests or suggestions? Thanks again for all of your great work.
Angela Roberts
Senior Accountant (BCom), OOL Accounts
Thank you so much for providing such a great resource. As a sole practitioner I have found the resources you provide of immense help over the years.
Rosie Squibb BCom MAppTax
CA SMSF Specialist
Love your work Dennis. Your service is excellent. THANK YOU. Paul
Paul Bailey B. Bus. (Accounting) FIPA, FFA
Registered Tax Agent, ASIC Registered Agent, Principal, Northern Beaches Accountants
Subscription Levels
We accept Mastercard, Visa, Diners Club and American Express
Purchase an individual product to access only the features you need.
If you purchase any calculation package below, you will receive all subsequent updates to any file(s) included in that package as well as any new calculation(s) added after your purchase.